Lunar horoscope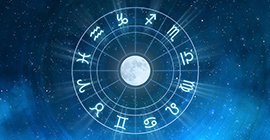 A lunar horoscope is a map compiled at the time when the transit moon returns to the position it occupied at the moment of the birth of the person (native). Lunar return is repeated approximately every 27 days and 8 hours - this is the sidereal cycle of the Moon. This horoscope is calculated using the coordinates of the place in which the person was or plans to be. In the case of moving and finding at this time in another locality, it is necessary to recalculate the lunar for new coordinates.
The lunar horoscope is a kind of matrix that preserves the tendencies laid at the time of the lunar return, during the coming lunar month.
Select the date, time and place birth:
♃ Jupiter in 7 home of the lunar horoscope
Expansion of cooperation, obtaining profitable, interesting proposals in the field pointed to by the projection of Jupiter into the natal house. Useful links. Promotes mediation, as well as any advisory practice (lawyer, psychological, astrological, etc.), gives rich clients, mutual understanding. A good year to start an artistic or political career, lecture and conduct any propaganda. Sometimes legal issues, contacts with foreigners, teaching, religious and philosophical issues are brought to the forefront. Beneficial contacts, successful partnership. A good environment is chosen. Often found in the year of marriage (if confirmed by other indicators) and indicates in this case a happy marriage. Married happiness, calm family life. Improvement of social status. Social activities, popularity. The person becomes indifferent to others, enjoys well-deserved sympathy. In opposition to the planet in the 1st house, on the contrary, it gives forced seclusion and trouble with others up to public censure. Other negative aspects give small troubles in contacts, a lot of fuss over trifles. Abuse of credulity rights.
♃ Jupiter in the houses of the lunar horoscope
Comments: