Lunar horoscope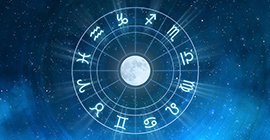 A lunar horoscope is a map compiled at the time when the transit moon returns to the position it occupied at the moment of the birth of the person (native). Lunar return is repeated approximately every 27 days and 8 hours - this is the sidereal cycle of the Moon. This horoscope is calculated using the coordinates of the place in which the person was or plans to be. In the case of moving and finding at this time in another locality, it is necessary to recalculate the lunar for new coordinates.
The lunar horoscope is a kind of matrix that preserves the tendencies laid at the time of the lunar return, during the coming lunar month.
Select the date, time and place birth:
♃ Jupiter in 10 home of the lunar horoscope
Often points to the beginning of professional activity or higher education (admission to the university), the first career successes, promotion, promotion, profitable job transfers and offers. The situation is favorable for assuming leadership, for a political career, struggle for a place in the sun, for obtaining high social status and related material security, for implementing its own line and program of action. Also for relations with the authorities, with structures of power and executive bodies. It is possible to obtain patrons, receive support and approval. Allows you to get priority over other persons. Usually this year is evaluated as a consequence as one of the happiest. Women in connection with the 5th house may indicate a successful birth. Struck by the negative aspects of Jupiter testifies to the troubles in these matters, the greater trouble, the getting into a difficult situation, the conflicts with the authorities and the authorities.
♃ Jupiter in the houses of the lunar horoscope
Comments: