Lunar horoscope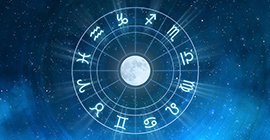 A lunar horoscope is a map compiled at the time when the transit moon returns to the position it occupied at the moment of the birth of the person (native). Lunar return is repeated approximately every 27 days and 8 hours - this is the sidereal cycle of the Moon. This horoscope is calculated using the coordinates of the place in which the person was or plans to be. In the case of moving and finding at this time in another locality, it is necessary to recalculate the lunar for new coordinates.
The lunar horoscope is a kind of matrix that preserves the tendencies laid at the time of the lunar return, during the coming lunar month.
Select the date, time and place birth:
♃ Jupiter in 5 home of the lunar horoscope
Increase in the number of love and intimate relationships (but usually only in comparison with last year's situation). Activation of social life, a lot of entertainment, pleasant rest, the desire for pleasure. High sports achievements are possible. Creative self-realization, many plans, the emergence of promising patrons and fans, help from them. Good luck in gambling, in financial enterprises, on the stock exchange. The year is favorable for investing in financial projects. Good reputation, deserved success, including abroad. The success of children. When projected into the 5th house, the radix also indicates the birth of a child, for a woman - a well-flowing pregnancy and mild birth. With the defeat of Jupiter - a major fetus and problems during childbirth. Expanded participation in children's affairs, a happy solution to their problems. Famous for children. The negative aspects of Jupiter cause a tendency to affect, afront, extraordinary. Unhealthy sensuality. Ban on risky businesses, games. Losses, financial instability.
♃ Jupiter in the houses of the lunar horoscope
Comments: